Gothic Medieval
Gothic, medieval from 1200 to 1480,
Late Gothic, Burgundian fashion
The Gothic clothes formed the shape of slender and pointed out all the vertical lines. The skirt was that dominant garment. Men and women alike wore long, loose fitting skirts. Most of the garments were made of two parts: the long, tight fitting undergarment and the sleeveless overdress, that is extendet by a train. The large armholes of these dresses were called "hell window" which should be considered a warning of the women charm.
Women's clothing
Typical of the Burgundian-French fashion, the bell-sleeves, which were on the over-garment, the Houppelande.
In Germany it was called that Tappert outer garment. A wide belt held this dress together. The Houppelande was worn by men and women. As a court dress, she was abundantly trimmed with fur and extended in a Train. My medieval dress is made of an undergarment and a short corsette part.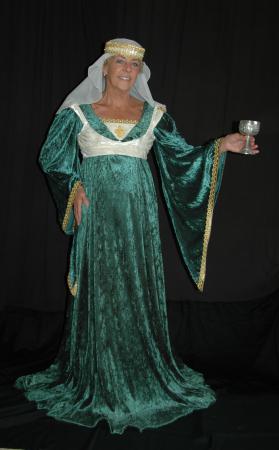 Serrated chaperon

In medieval were brought in all sorts of places jags (cloth rags) or pulled the hem like a leaf of oak.
Schapel
The Schapel was a decorated hoop or ring of fresh-flowers, decorated with pearls, precious stones or ribbons. Under the Schapel was often still a veil worn.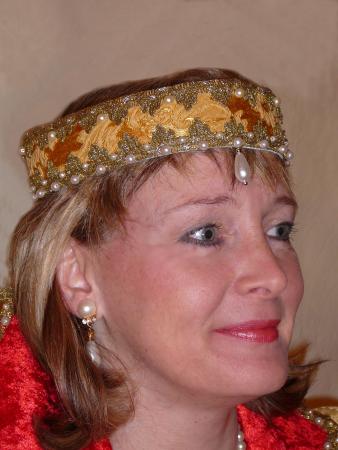 Gothic Men's dress
Merchant's dress can be worn with or with out a belt. Again, the sleeves are very wide, as the Houppelande. The garment is made of light velvet and looks not only exquisite, it is very convenient.